"Evolution" of a stadium
Ontworpen: oktober 2011
Concept: een klein, stedelijk atletiekstadion geflankeerd door een sporthal en 25-meterbad, wordt verbouwd tot een puur voetbalstadion (met uitgegraven eerste ring om de impact - schaduwen - op de omliggende bebouwing te beperken) en geleidelijk uitgebreid.
Designed October 2011. Small communal athletics stadium with adjacent public sports hall and swimming pool, later converted to a pure football (soccer) ground, with (initially) all seats (except for VIP and press) below street level, in the dug-out bowl. Several expansions in later phases.
Fase 1 (zittribune + staanplaatsen)
/ phase 1 (seated stand + terraces)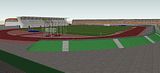 Fase 2 (7.850 zitjes)
/ phase 2 (7,850 seats)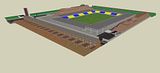 Fase 3 (10 extra rijen oost- en zuidtribune, 11.300 zitjes)
/ phase 3 (11,300 seats)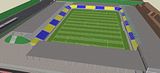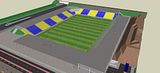 Fase 4 (tien extra rijen oost, zuid en noord, 16.250 zitjes)
/ phase 4 (16,250 seats)
Fase 5 (22.023 zitjes)
/ phase 5 (22,023 seats)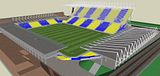 In een volgende fase krijgt de "spoorwegtribune" (zuid) ook een nieuwe ring (nieuwe capaciteit 26.500 zitplaatsen) evenals de hoek tussen beide tribunes. De tribune aan de straatkant en de aansluitende hoek krijgen ook een tweede ring, maar minder hoger dan de andere. Ook de hoofdtribune wordt nog verbouwd.
In later phases all stands will get an extra tier as demonstrated in phase 5.