Ontworpen: oktober-december 2011
Concept: indoor wielerbaan van 250m met tribunes voor 7000 à 8000 toeschouwers. Beweegbare vloer. Geschikt voor baanwielrennen, balsporten... Genoeg plaats voor de installatie (occasioneel, voor kampioenschappen) van een ijspiste, zwembad, indoor atletiekpiste...
Designed between October and December of 2011. 250m velodrome with stands for 7,000 to 8,000 spectators and a movable floor in the centre of the arena. Can accomodate a wide variety of sports, even indoor athletics.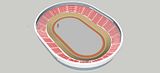 Nieuw kuipontwerp
/ new seating bowl design
: